Home Generator Installation & Repair
Looking to equip your home with a bit of energy independence? Our home generator installation and services can provide you with some much needed electricity in the event of a blackout or even be used to supplement a solar system and abandon the grid totally.
Professionally installed, a generator system can be seamlessly integrated into any buildings existing electrical setup. Simply power on your generator to have full power throughout the house from normal outlets – perfect for emergency situations to keep everything up and running.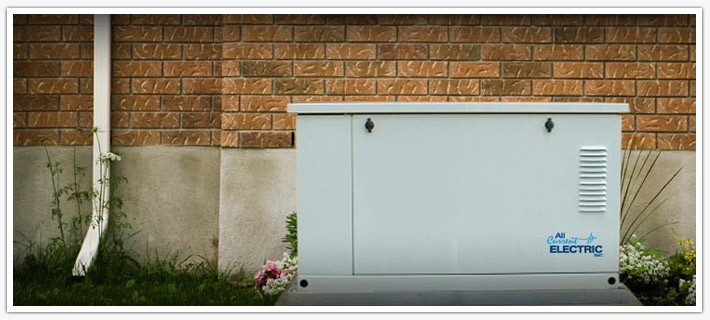 Generator Installation
Proper installation of a home generator begins with an assessment of the households needs and the proper choice of generator. Our services are geared towards assisting the client from the earliest steps of the process to insure all of the proper components are selected and installed properly.
Installation options can include switching options within the electrical breaker to switch between normal and generator power. Complete installation includes integration within the existing electrical setup for normal use of outlets, light switches, and utilities as they would normally be used.
Our professional and highly experienced electricians take each job as a unique challenge, an opportunity to do their very best. Every installation is treated carefully and diligently to insure no damage to the existing system and a provide a highly functional installation tuned to the needs of the client and the home.
Repairs, Maintenance & Services
Should your generator or electrical system suffer issues which require repairs or servicing, our team is more than capable of tackling the problem.
From simple fixes and everyday repairs like changing the generators oil or similar routine maintenance, to implementing any changes no matter how large or small, we will be happy to assist with all of the details.
Service Contracts
If you're interested in setting up a service contract for routine maintenance or on-call repairs or modifications, we will be more than happy to establish a productive and mutually beneficial relationship with you! Give us a call today to see how our services can be best put to use for your home or business.
For our generator installations, service contracts can include complete upkeep and maintenance of your generator and related components. Keep everything spic and span and running like a well oiled machine to help boost the longevity of your generator and the return on your investment. The help of professionals is just a click away.
Whether you need help maintaining your own installation, the work of past professionals, or just want a contract to maintain one of our installations, please don't hesitate to contact us to figure out how we can work together.